Available in the cottage
Kitchen:
microwave
fridge with built-in freezer
ceramic plate
nespresso coffee machine
electric water kettle
Plates
glasses
pans
all standard kitchen utensils.
Rest of cottage:
hair blow dryer
fireplace with wood
double bed (upstairs)
sofa bed (downstairs, in the living room)
dinner table with 6 chairs
all standard household equipment
board games
Garden:
big wooden bench for sitting or chilling in the morning sun
a big picnic table.
large parasol
two bear-chairs to enjoy the evening sun.
4 relaxing chairs to use throughout the garden
Available around the cottage
Car: parking and 2 charging stations
canoe
For rent: bikes, stand-up-paddle board
Additional service: airport pick-up
Internet: free unlimited wifi
How to get here?
The cottage is close to the airport Schiphol (22 km) and conveniently located for all your destinations.

As the cottage is located in rural area bike or car are the best means to travel around. We can also pick you up at the airport or trainstation if convenient, please let us know well in advance.
Public transport is available within walking distance. The public bus (line 182) stops at the Stenen Brug Hoogmade close to our home. This bus will bring you to Leiden central station which has direct connection with all major cities in the Netherlands.

Detailed instructions on how to get to the rural cottage will be sent to you by email prior to your arrival.

Distances:
Amsterdam - 36 km
The Hague (den Haag) - 36 km
Rotterdam - 58 km
Utrecht - 68 km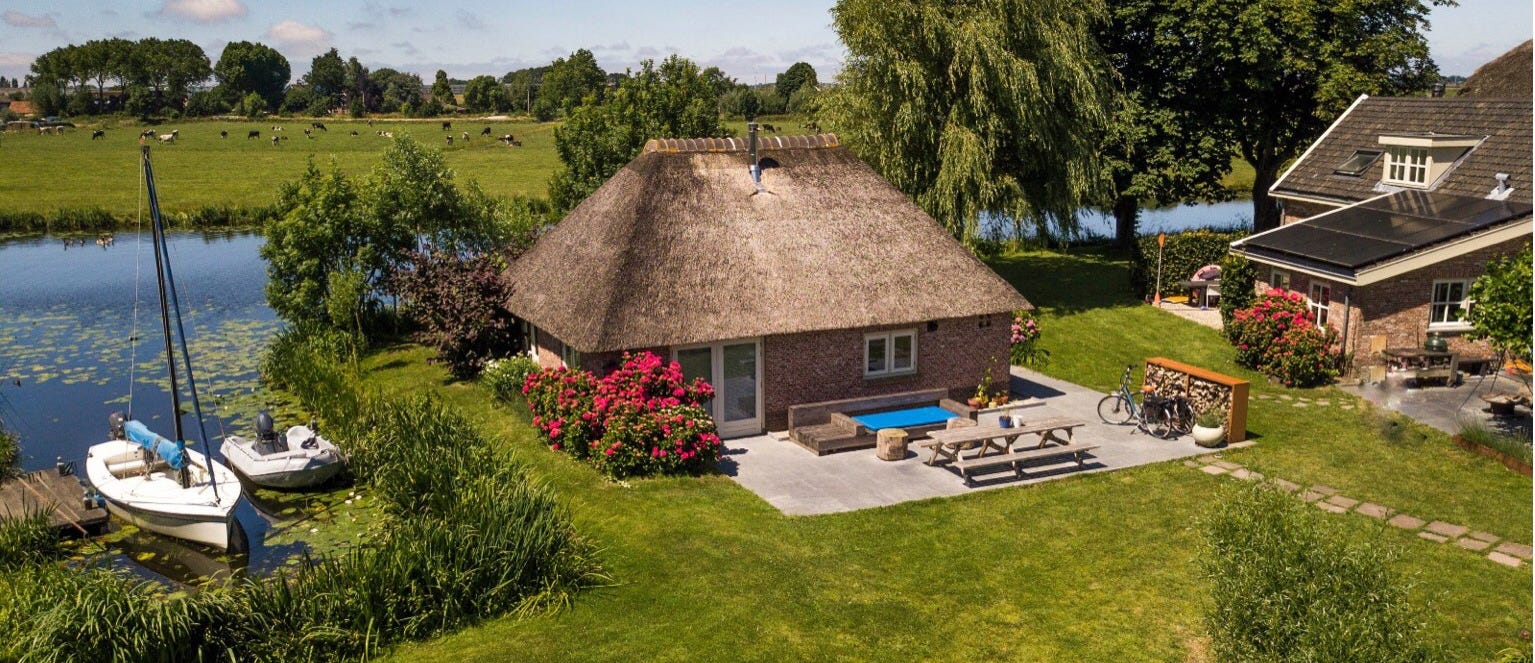 Related links for activities around Leiden/Hoogmade
Hoogmade is a small village, part of the Kaag and Braassem municipality, known for its windmills, cheese farmers and the abundance of rivers and lakes.

We have selected the best places close to Groeten uit Hoogmade:
Cheese farmer at the neighbours Kleine kazen boerderij
Our favourite terrace and restaurant Kom eten and Kromme Does
The windmill that you have been seeing from your terrace, with miller Arie who is always happy to show you around.
For more inspiration in our municipality, have a look at the website Rondom Kaag en Braassem


The city of Leiden is a must-see city. First of all the huge variety of musea, ranging from Corpus, Volkenkunde, Naturalis and many many more.
Obviously Leiden is hosting a scale of restaurants in the intimate city centre with its canals. Our favorites include Lot en de Walvis, de Waag and de Poort

More inspiration on the city of Leiden can be found on Visit Leiden