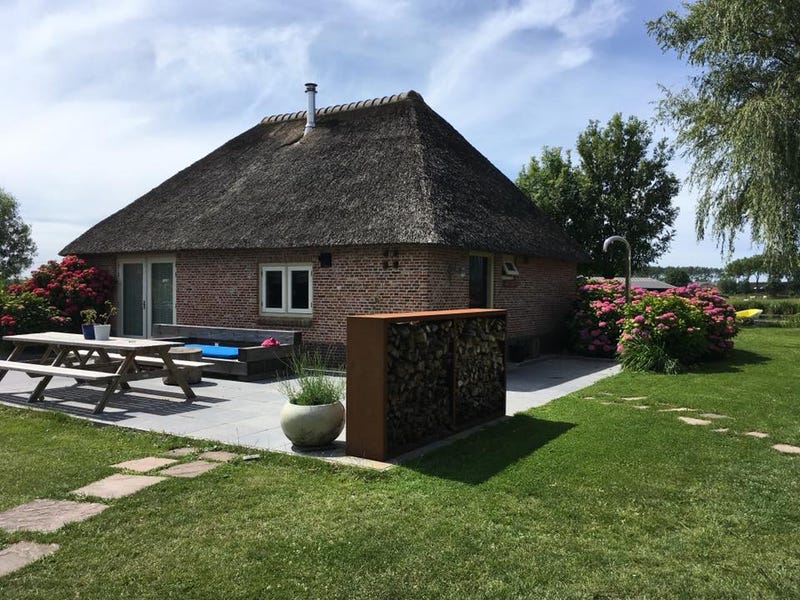 Groeten uit Hoogmade
Rural holiday cottage
Hidden gem, city break, relax outdoors
In the middle of the Green Heart of the Netherlands you will find the holiday cottage Groeten uit Hoogmade. The original thatched roof cottage fits perfectly in its natural environment. The traditional windmills, cows and the river are directly near the cottage.
This is the Netherlands!
The cottage gives access to the large garden with old fruit trees. Sitting on the terrace you can enjoy the cows and sheeps in de meadows, with the original Dutch wind mills.
In the evening you can enjoy the sunset, sipping your wine on the other terrace, overlooking the waters and the boats sailing by. Birds will be swimming and flying all around you.

The cottage is suited for 2 guests with the option to extend to four.
The rural cottage has its origin as a pigsty. The previous owners have restaurated both are house - the original summer farm house and the pigsty to its original beauty. We live on this farm since 2015, with our two boys and two cats and the dog Sky. You will be greeted by Sky the moment you get out of your car. Discover our beautiful place in Holland through our private collection of pictures. We fell in love with the rural area, the neighbourhood and the house. Hope you will love it too!


The cottage is perfectly located for a variety of activities. Whether you are into nature or a city enthousiast, all the options are nearby. The dutch major cities: Amsterdam, Rotterdam, The Hague and Utrecht are nearby. Directly located next to the cottage are trails for biking and hiking. Due to direct access to the water you can enjoy canoeing, sailing and swimming.
Google Maps inhoud kan niet getoond worden met je huidige cookie-instellingen. Selecteer "Inhoud tonen" om de inhoud te zien en de Google Maps cookie-instellingen te accepteren. Meer info kun je lezen in de https://policies.google.com/privacy [Privacyverklaring). Je kunt je altijd weer afmelden voor deze [cookie-instelling] /redirect-to-page/5b8e2e3e-75e4-40e6-a131-60c69c8e9ef7.
Inhoud tonen
Greetings from - Salutations de -
Grüßen aus - Saludos desde - Hilsner fra